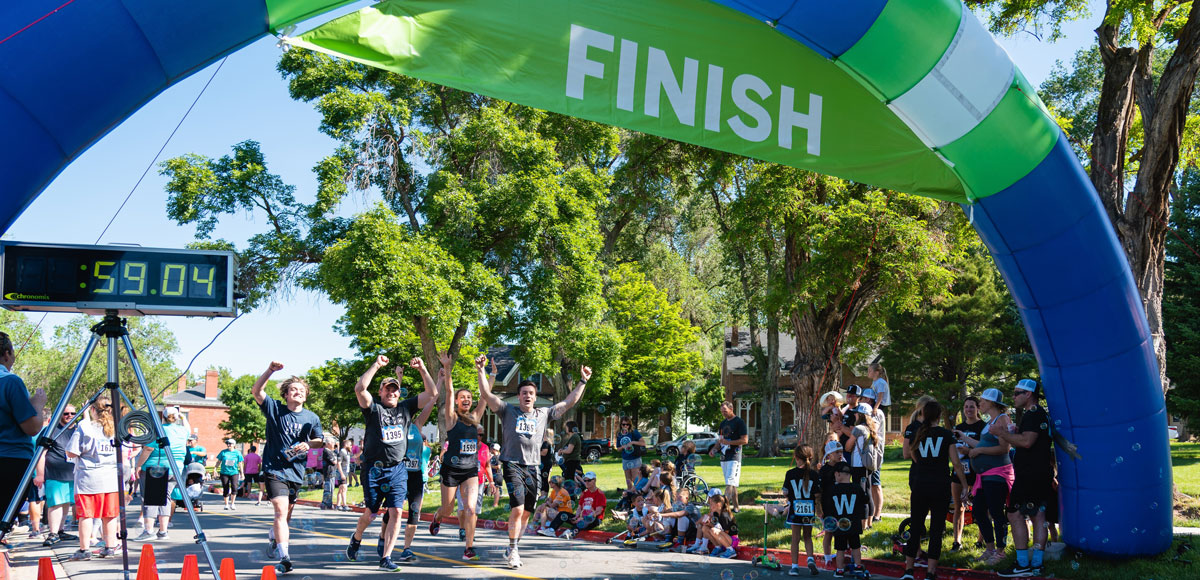 Event Details
Click here to view the most recent event day schedule, instructions on how to get to the event, packet pickup details, and more!
*** Registration for all events closes on Wednesday, June 9, 2021 at 11:59 PM MST. There will be no registration at packet pick-up or on event day. We cannot make any exceptions this year.

When: Saturday, June 12, 2021
Where: All activities start and finish at Fort Douglas Field at the University of Utah
What:
Walk/Run Options: 5K, 10K Trail, and Kids Fun Run
Ride Options: Out-and-back routes including 25, 50, 75, 100, or 140 miles.
Virtual Participant Option: Near or far, join us as a Virtual Huntsman SportsFest participant and do any activity you'd like! Fundraise, participate, and rally together as a virtual community.
100% of funds raised support cancer research at Huntsman Cancer Institute (HCI).
WALK, RUN, RIDE, AND SUPPORT CANCER RESEARCH
Our mantra is "Cancer moves fast and WE have to move faster." In 2017, Huntsman Cancer Foundation combined the iconic Huntsman 140 cycling ride with the community-centered Huntsman 5K and Kid's Fun K to create a single-day event. The Huntsman SportsFest is the perfect way for people like you, with the goal of eradicating cancer, to join together."

The Huntsman SportsFest is an exciting fundraising event bringing runners, walkers, cyclists, and participants of all kinds together for more than just a day of sports and fun, but for a day of fighting cancer by supporting research at HCI. With more activities than ever before, there is something for everyone to come together as a community and make a difference!
Everyone starts and ends at the beautiful Fort Douglas area of the University of Utah campus, and cheers ring out across Fort Douglas Field as the wheels and feet of friends and family cross the finish line. Join as an individual, a family, or a team on June 12 and support a day to eradicate cancer.
Why Support Huntsman Cancer Institute
One hundred percent of the fundraising dollars from Huntsman SportsFest support the mission of Huntsman Cancer Institute and have a huge impact on cancer research!
With management of the Utah Population Database (UPDB), Huntsman Cancer Institute houses the world's largest repository of health and genealogic records in the world. More genetic mutations responsible for inherited forms of cancer have been discovered at Huntsman Cancer Institute than anywhere else in the world. The genes mutations responsible for breast, ovarian, melanoma, head and neck cancer, multiple myeloma, prostate, colon cancer, and more, were all discovered here and shared with the world.
By funding efforts to better understand the beginnings of cancer and more effectively treat cancer, you help relieve suffering and improve the quality of life for cancer patients, survivors, and their families. Cancer patients, caregivers, and donors are encouraged to come together in a myriad of ways to fight cancer individually and collectively through fundraising programs and events like the Huntsman SportsFest.
Contact Us
EVENTS TEAM
[email protected]
801-584-5815