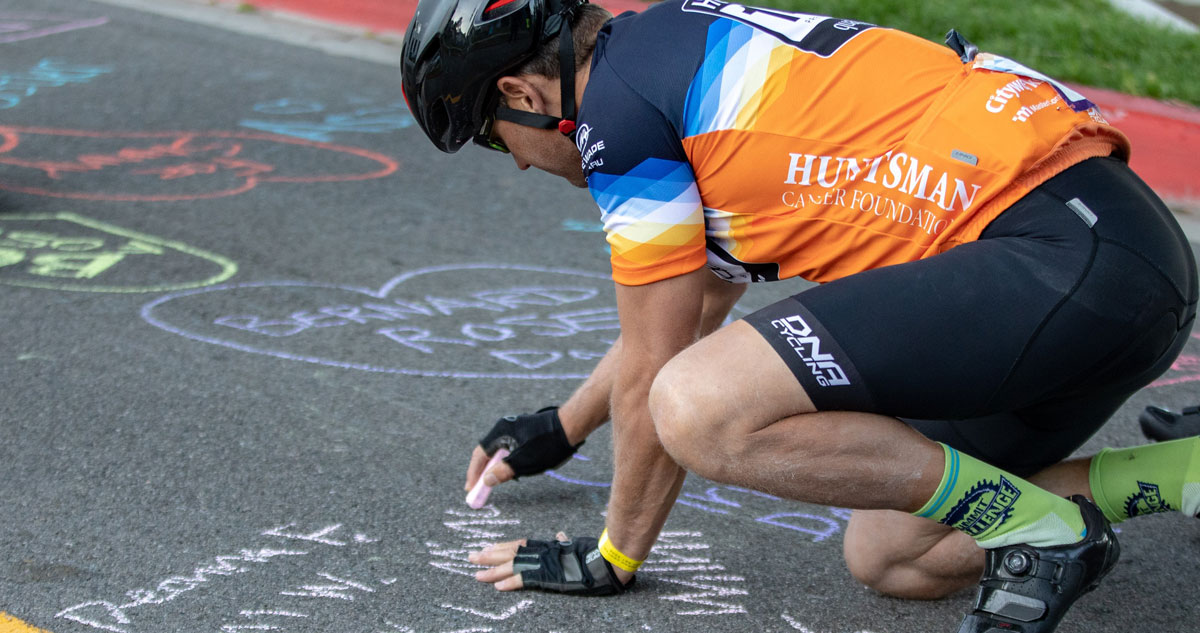 FAQ
We have answers to all your questions! If you can't find the answers here please email [email protected] or give us a call at 801.584.5815.
How much does it cost to participate?
Run registration fees (includes t-shirt):
$12 for the Kid's Fun K (ages 1-12)
$35 for the Huntsman 5K or 10K Trail
Ride registration fees (includes t-shirt):
$75 before May 1
$85 from May 1 to June 1
$95 after June 1
Registration for all events closes on Wednesday, June 9, 2021 at 11:59 PM MST. There will be no registration at packet pick-up or on event day. We cannot make any exceptions this year.
Participants are encouraged to help raise funds through their personal fundraising page and can receive incentives for reaching different fundraising levels.
When does registration close?
Registration for all events closes on Wednesday, June 9, 2021 at 11:59 PM MST. There will be no registration at packet pick-up or on event day. We cannot make any exceptions this year. *We cannot guarantee shirt sizes for anyone registering after June 1, 2021 for event day, but will mail it out after the event.
Is the Huntsman SportsFest in-person or virtual?
The Huntsman SportFest is scheduled to be an in-person event with adaptations. There is also a virtual option to participate. We will continue to monitor the COVID-19 numbers as we get closer to event day to ensure the event can take place safely in-person. Please see our COVID-19 adaptation plan for the 2021 event.
Are there adaptations to the 2021 Huntsman SportsFest event?
Yes, in order to hold the Huntsman SportFest in-person event, all parts of the event have seen some adaptations. Please see our COVID-19 adaptation plan for the 2021 event.
Are masks required at the event?
Masks are no longer required at the event. Individuals who are unvaccinated or immunocompromised are encouraged to wear masks.
If my family wants to watch me finish, will they be able to do that?
We don't encourage spectators this year, but if you do have someone that would like to cheer you on, we asking that you keep spectators to only two people per rider. All spectators will be required to wear a mask at all times and distance from others at the finish line. We will also have spectator spots along the ride route to allow families to see you during your ride. Watch for those in an event email in June.
My child wants to participate in the Kids Fun K. Do I need to register for the event to run with them?
No, you do not need to register. However, you will be required to sign the event waiver on event day.
Does my registration fee count towards my goal to earn fundraising incentives?
No, it is not counted in your fundraising total.
What are the 2021 fundraising incentives?
As always, the best incentive for fundraising is getting closer to eradicating cancer. However, we have a few fun things up our sleeves as a THANK YOU for fundraising! Click HERE to see the 2021 fundraising incentive levels.
I've heard there is a cycling training program. Is there a fundraising minimum? How do I join?
Yes! The fundraising minimum to participate in the cycling training program is $250. Our cycling training program starts in March (weather permitting) and includes group rides every Saturday and weekly coaching emails with training, nutrition, and other tips through event day. The cycling training program can help you prepare for any distance you want to ride in the Huntsman SportsFest. As a registered Huntsman Rider, you will receive the training emails each Thursday with location and distance details.
Is this a race?
The Huntsman SportsFest is a non-competitive event designed to bring runners, cyclists, and participants of all levels together to raise money to support cancer research at Huntsman Cancer Institute (HCI). The Huntsman Ride is a fully supported ride with multiple out-and-back distance options that make it the ideal ride for both the beginner and seasoned cyclist. The Huntsman Run distances are non-competitive and family-friendly distances. Timing yourself is just for fun!
Where does the money go?
100% of all funds raised go to support research at Huntsman Cancer Institute (HCI) in Salt Lake City, Utah. By funding efforts to better understand the beginnings of cancer and more effectively treat cancer, you help relieve suffering and improve the quality of life for cancer patients, survivors, and their families when you give. Cancer patients, caregivers, and donors are encouraged to come together in a myriad of ways to fight cancer individually and collectively through fundraising programs and events like the Huntsman SportsFest.
My family/friends and I are doing different events. Can we still be on the same team?
Yes! Starting this year participants from different events can be on the same team. With a team, each participant has their own fundraising page as well as the collective team page. Remember family registration is different than a team.
What is the difference between team and Family Registration?
Family registration is designed for those wanting to have one person register everyone, fundraise on one page, participate in the same event, and the participants do not care to have their individual fundraising tracked separately to earn fundraising incentives i.e. cycling and running jerseys, jackets and cycling bib shorts.
Teams are designed to have individuals register on their own, set up their own fundraising page, and then join with others to pool their fundraising on an additional team fundraising page. This allows team members to track their individual fundraising contributions and be eligible to earn incentive items.
How do I raise funds?
A personal fundraising page is created when you sign up to participate in the Huntsman SportsFest, and it is a great tool to track donations and progress towards your goal. Visit our TOOLKIT for tips and ideas that have helped other fundraisers.
How do I volunteer?
The Huntsman SportsFest is an amazing event because of so many wonderful volunteers! And we need you! We have many positions that need to be filled. Our needs range from early morning registration at Fort Douglas to staffing aid stations along the Huntsman Run courses — and the Huntsman Ride always has dozens of assignments along the course. The more, the merrier!
Huntsman Volunteer Guide » (COMING SOON)
*** A COVID-19 adaptation plan is in place. Check it out for changes that will impact volunteer areas.
Are gifts made through my fundraising page tax deductible?
Yes, Huntsman Cancer Foundation is a 501(c)3 not-for-profit organization. All donors will receive an emailed receipt at the time of their gift.