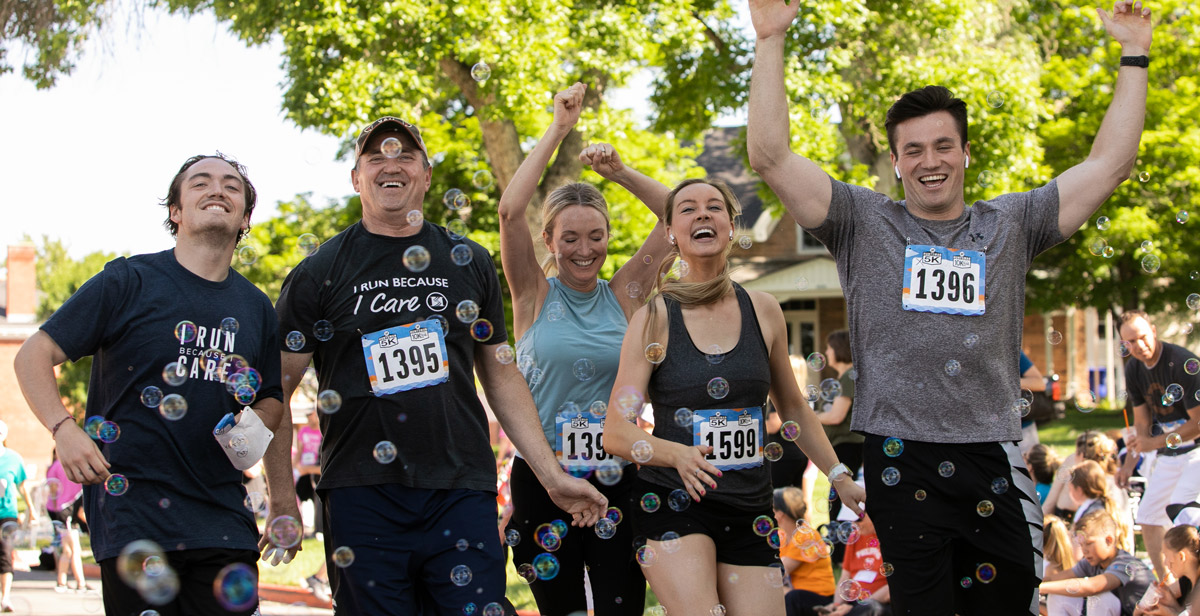 TOOLKIT
Set Up Your Fundraising Page
A personal fundraising page is created when you sign up to participate in the 2021 Huntsman SportsFest, and it is a great tool to let others know why you are raising money for cancer research. Are you raising money in honor of a friend or family member? Or for yourself? Personalize your web page with a story and photos; a real-life story makes fundraising personal and powerful.
Make a List and Send an Email
Personally asking someone for a donation is one of the most successful ways to fundraise. Make a list of potential donors. Include everyone you know and send them each an email through your personal fundraising page. Try this, start by making a donation yourself and ask others to match it. We have created three sample email templates to get you started!
Sample Letter #1
Sample Letter #2
Sample Letter #3
Earn Money for the Miles You Train
Huntsman Cancer Foundation has partnered with Charity Miles- an app that allows your friends to pledge support for each mile you train. When you meet your mileage goal, your supporters will be notified to donate to your Huntsman SportsFest fundraising page.
Watch this how-to video to get started with Charity Miles and begin earning donations.
Share on Social Media
Social Media is a fun, fast, and easy way to turn friends, family, colleagues, and neighbors into donors. Think big and use your social media outlets to tap into an entirely new network of people beyond just your immediate contacts. You'll be surprised at the extra donations that can come in just by sharing your personal fundraising page on social media. And be sure to use our event hashtags as you post about your involvement: #RunForHope #RideForHope #HuntsmanSportsFest
Talk it Up
Ask for a few minutes on the agenda of any meetings you'll be attending. Explain why you are participating in the Huntsman SportsFest and ask for everyone's support. If you are dedicating your efforts to someone who has cancer- share that personal story.
Thank Your Donors
Please don't forget to thank your donors! You can send them a handwritten note, email, text, give them a call, or even recognize them on social media. It's important to appreciate your supporters and let them know their contribution is valued.
Digital Tools
Matching Gifts
Double your donations through companies that have a matching gift program! Click here to see if a company matches gifts.
Participant Guides and Forms
Huntsman SportsFest Guide for Success
51 Fundraising Ideas
Fundraising Tips
Social Media Tips
Team Captain's Guide – How to Build a Fundraising Team
How to set-up Charity Miles
"Support Me" – A Mail-in Donation Form
Facebook Profile Frame Instructions
Virtual Participant Guides and Forms
Virtual Guide for Success
Virtual Fundraising Tips
19 Virtual Fundraising Ideas
Social Media Tips
Team Captain's Guide – How to Build a Fundraising Team
"Support Me" – A Mail-in Donation Form
Facebook Profile Frame Instructions
Virtual Participant Packet [COMING SOON!]
Video Resources
Cancer is Personal
Together We Can
Gift of Time
Gift of Time | Nelson Family
Gift of Time | Centurier Harris Family
Contact Us
Events Team
[email protected]
801.584.5800