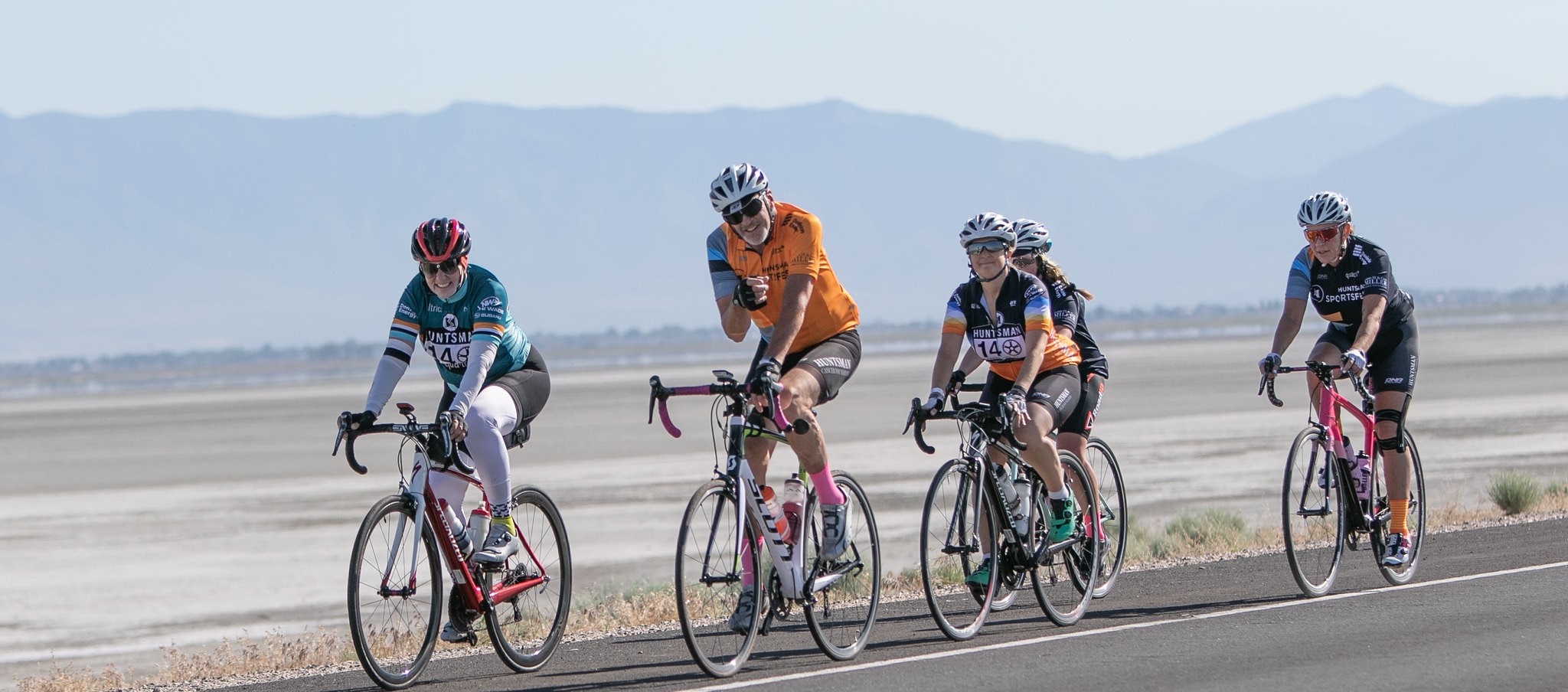 FUNDRAISING INCENTIVES
While fundraising isn't required, it is highly encouraged and appreciated as 100% of funds go directly to further the mission of Huntsman Cancer Institute. To add some fun into the mix, we have a few fun incentives to say THANK YOU!
To be eligible for incentives, funds must be raised on your individual SportsFest fundraising page. Watch your email as you reach the different fundraising levels for instructions on how to redeem each item earned. If you are fundraising on a family page but want to be eligible for individual incentive items, email the Huntsman Cancer Foundation events team ([email protected]) at the time of your registration.
Cyclists:
$250 - Exclusive access to the Huntsman Heroes cycling training program, including Saturday group rides, starting in March 2022, and top-notch individual guidance from our cycling coaches. You will also receive a discounted registration for the 2023 Huntsman SportsFest
$500 - Huntsman SportsFest cycling jersey and two tickets to the end-of-year Huntsman Heroes Celebration
* Jerseys will be given out at event packet pick up for those who reach the $500 level by March 14, 2022. Due to production times, we are not able to guarantee jerseys on event day earned after March 14. All who earn their jersey after March 14, it will be mailed out post-event (late summer)
$1,000 – Huntsman Cancer Foundation cycling bibs from DNA Cycling (mailed out post-event - late summer)
$1,500 - Guaranteed entry to the 2023 LOTOJA Classic. Cyclists are still responsible to pay their registration fee but will bypass the event lottery.
Walk, run, and play:
$250 - Discounted registration for the 2023 Huntsman SportsFest
$500 - Huntsman SportsFest athletic jersey and two tickets to the end-of-year Huntsman Heroes Celebration
* Jerseys will be given out at event packet pick up for those who reach the $500 level by March 14, 2022. Due to production times, we are not able to guarantee jerseys on event day earned after March 14. All who earn their jersey after March 14, it will be mailed out post-event (late summer)
$1,000 - A Huntsman Heroes team jacket (to be received in the fall)
2022 Jersey Design