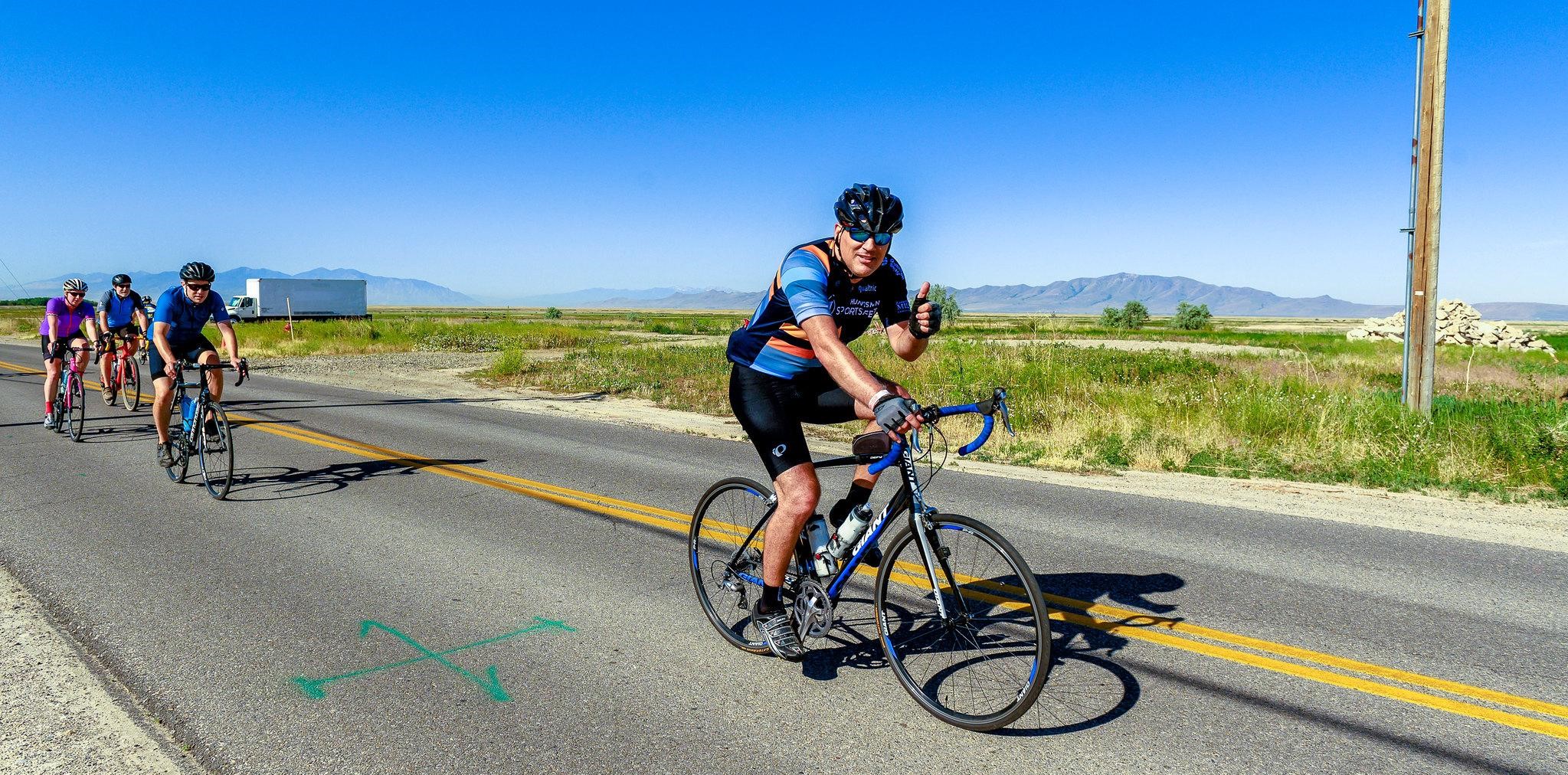 RIDE
The Huntsman Ride (formerly the Huntsman 140) is an epic ride through Northern Utah. Each distance is an out-and-back ride starting and ending at Fort Douglas at the University of Utah. The Huntsman Ride is a non-competitive, single day, fully supported ride, with multiple distance options that make it the ideal ride for both the beginner and seasoned cyclist.
* New for 2022: To allow for varying speeds and skills, ride routes will split between the Legacy Trail and roads in close proximity. More details to come.
Each Huntsman Ride participant will receive a Huntsman SportsFest t-shirt at check-in, and those who fundraise $500 or more will receive the Huntsman SportsFest cycling jersey. Although fundraising is not required, we encourage each participant and team to set a goal and try!
Distance Options
Distance options include 25, 50, 75, 100, and 140 miles, with a relay option for the 140-mile courses. Check out the Ride Guide below for route maps and additional information.
Rest Stops and Lunch
The Huntsman Ride is a fully supported event, including staffed rest stops for snacks, hydration, and a lunch stop at Farmington High School for all cyclists riding 75 or more miles. All distances will receive additional food and hydration at the Finish Line Festival.
Ride Spectator Locations
Do your family and friends want to see and support you out on the course? There are many great locations for them to check-in with you on event day. Click here to check out our suggested spectator locations.
Start Times *
140-Mile: 6:00 am
100-Mile: 6:30 am
75-Mile: 7:00 am
50-Mile: 7:30 am
25-Mile: 8:00 am
* These start times are anticipated from 2021 start times and are subject to change. Please check this page regularly and review event emails for final start times.
2021 Ride Guide (2022 Ride Guide coming soon!)
The Ride Guide includes all things Huntsman Ride, including courses and maps, start times, feed zone and water stops, safety guidelines, and more.