Successfully Starting from Scratch: How Zeta Colony Raised $45K
Florida State University hadn't held a Derby Days in seven years, but that didn't stop the Zeta Colony from raising $44,609 to support the lifesaving mission of Huntsman Cancer Institute during the 2021–2022 school year. Colony Quaestor Carter Jackson discusses how the brothers did it.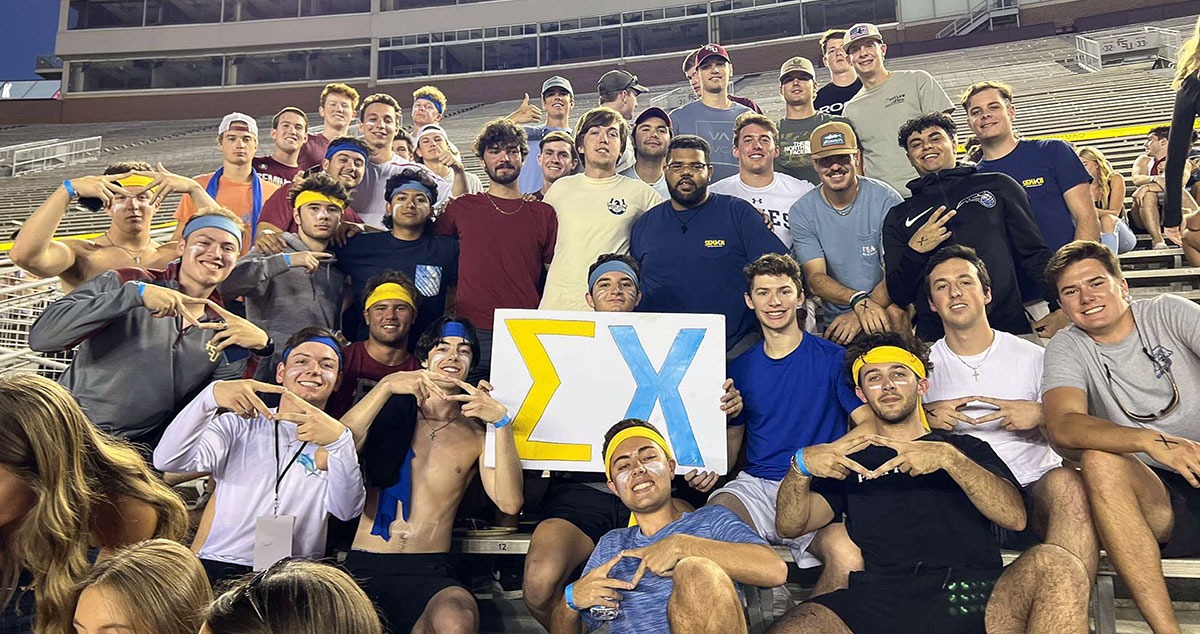 Why is Sigma Chi's philanthropy for Huntsman Cancer Institute (HCI) so important?
Just like many other fraternities and sororities at universities across the United States, Sigma Chi holds annual philanthropic campaigns in an effort to raise money for a cause greater than ourselves. What I feel separates Sigma Chi from the rest is how seriously we take our fundraising, and how much pride we take in it. Not to downplay any other Greek organizations' efforts, but for some, it's a checkmark they can put in a box to say they did it. With Sigma Chi, however, our Derby Days fundraising week is something we plan for and look forward to the entire year.
During one of our chapter meetings, we asked how many people had been affected by cancer, or were close to someone affected by cancer. Every hand in the room went up. When something as serious as cancer has personally impacted you, it gives you a feeling of internal responsibility to do anything you can to help combat it so the next generation may never have to experience it. Huntsman Cancer Foundation (HCF) gives our fraternity every opportunity to actually see where our money goes; we don't just cut a check and have no idea whether our efforts made a difference. By creating videos, having a strong social media presence with updates and achievements, and inviting top chapters to HCI every summer, HCF showcases how every dollar raised really goes toward fighting back against cancer. Sigma Chi's pledge of $20 million toward women's cancers is the largest of any men's fraternity, and we couldn't ask for a better partnership because of the incredible effort to show us the impact we're making—and the impact HCI doctors and researchers are making—on a daily basis.
What are the reasons for Florida State (Zeta Colony) Sigma Chi's success this year?
As a newly re-founded colony, this was Florida State's first Derby Days held in close to seven years. With that brought many challenges, as outside organizations had no idea what Derby Days week was. The first key to our success was our social media presence. Creating e-flyers and having every single one of the brothers repost on their own social media got people wondering, "Hey, what's this Derby Days that I keep seeing on your profile?" We also created group chats with many of the sororities on campus, and we sent daily updates with event times and locations so it was easy for people to remember and make it out.
The second key to our success was our external communications with alumni and local businesses. Our Tribune did an amazing job of compiling an email list of our alumni and then keeping them updated as Derby Days got closer. Many of the alumni told us that just hearing about the events we were hosting "brought them back to their days as a Sigma Chi," which really helped in getting their assistance to make our fundraising goals come true. As the quaestor myself, I created a donation link that made it simple for the alumni to donate if they were unable to make it to Tallahassee to participate in our events.
Finally, reaching out to local businesses for sponsorships assisted in our success. Our crowning of the Derby Darling was hosted at a local restaurant that provided a "Share-It Night" in which some of the proceeds from food and drink sales were donated toward our efforts. Having all the sororities out to see which sister was going to win Derby Darling increased sales and allowed for everyone to get together in a wholesome environment to wrap up the week.
What's your advice for other colonies/chapters?
Having a plan set in stone weeks before the events happened helped us ensure we'd have a successful Derby Days. Crossing off that internal checkbox allowed us to go ahead and focus on the external. However, being flexible and having back-up plans are crucial in case things don't go as planned. Our Share-It Night was originally supposed to be on a Tuesday, but out of the blue, the restaurant's main water pipe burst and our plan was foiled two hours before we were supposed to be there. Switching to plan B and getting the word out about the date change as fast as possible allowed us to turn what could have been a bad night into a good one.
Create a sense of responsibility among the brothers: ask every one of them to hit a certain fundraising amount individually by reaching out to family and friends. Ensure everyone understands there's an expectation to do everything you can to fundraise, and don't allow guys to just blow it off. When you look back at how much we raised in our first year back, that really paid off. After it was all said and done, we looked back as a chapter at what WE as a whole had done, not what one philanthropy chair or one brother had accomplished. Holding the brothers accountable for both their attendance and their fundraising allowed us to have a strong presence wherever we were that week, and it ensured fundraising was a team effort.
What would you like to see in the future?
Now that we have hosted our first Derby Days, other organizations are aware of what we can accomplish. In the future, we want to do an amazing job of making sure we support other Greek organizations' philanthropic efforts by going out to their events. We want everyone to know we are all about supporting other fundraisers for the greater good, which will hopefully encourage more Greeks to come out to our Derby Days in the future.
Taking more pictures at events and creating a highlight reel is also on our list of to-dos, because we were so preoccupied with the events this year that we didn't get many photos to showcase for next year. Increasing the number of members on our philanthropy team will allow for greater delegation of work and hopefully allow us to surpass last year's numbers. We want to see a general upward trend in our fundraising numbers as each year goes by. As Sigma Chis, we are always looking for ways to improve ourselves and our fraternity, and be The Generation to End Cancer™.